Physician Patient Portal
OneDX is a software application suite that enables doctors and patients to securely access and share medical images and reports quickly and easily on any device from anywhere in the world. OneDX is fully customizable and generally integrates with any PACS, EHR, or Interface Engine in less than 24 hours. Medical software manufacturers, such as Epic, GE, Nuance, or Intelerad can choose any or all of the following components to reinforce their own software solution portfolios:
• Powerful Any Platform Mobile Viewer (Native App) 
• Instantaneous Image Sharing 
• Zero Footprint Web Viewer 
• Embed a Link to Patient Images in Radiology Reports 
• Search/Retrieve Medical Images from any PACS or VNA 
• Patient CD Upload and Push to PACS 
• Unlimited Video Collaboration 
• EHR and Patient/Physician Portal Integrations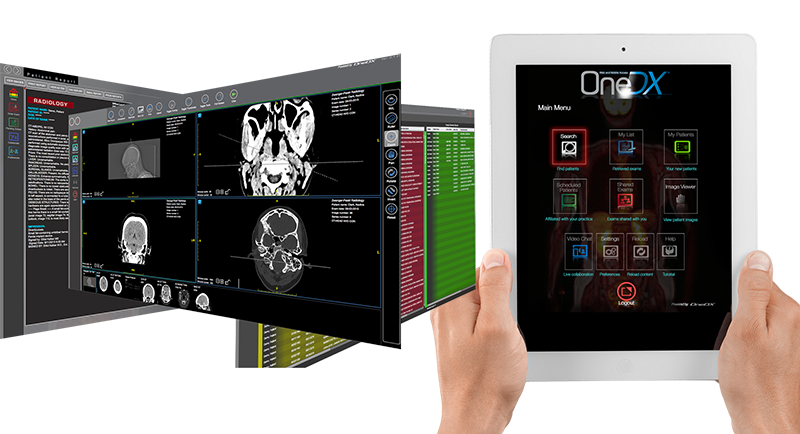 OneDX Benefits:
Image access from anywhere in the world from any web browser
Eliminates use of CD'S to distribute medical images
Enables high speed upload/download of large Imaging exams
Enables instant point to point image sharing
Cloud based portable source for entire patient health records
Enables same deployment across all mobile platforms: Android, Windows, Blackberry and IOS devices
Reduces complex IT infrastructures and hardware costs
Inability to deliver scalable cloud solutions to replace inefficient legacy imaging systems
The OneDX Advantage
To Patients
Access their medical images and reports from any web browser
Instantly share images with reports and with other healthcare or health insurance providers
Store other related health records to their account then selectively share them with healthcare providers
Portable source for all health records
Control of the continuum of care process
To Physicians & Healthcare Institutions
Physicians belonging to multiple institutions can access patient data within and out of network without restriction
Expedites cross-enterprise health record distribution
Instant on the go mobile/web access to images and reports
Bypasses annoying firewall and web browser restrictions (e.g. IE 8)
Access patient historic health records without provider red tape
Technical Advantage
Speed – The greatest challenge with remote access to medical images is the rate at which one can download and quickly view imaging sets on a mobile device/web browser. Using proprietary methods, OneDX can transfer large amounts of data faster than any competitive system on the market.
Universal Code (Multi-Platform) – Unlike the common Apple IOS and Android-based applications, OneDX can be instantly deployed across all key mobile platforms and operating systems, using a single codebase. This permits fast updates across platforms, high interoperability and consistent user look and feel.
Advanced Remote Access – Search and import images from disparate systems, view then share them without using an external cloud service similar to Dropbox. OneDX offers multi-platform mobile access, as native app. Referring physicians are able to view exams and reports from a mobile device of choice. (iPad/iPhone, Android).
On Demand Report Access - Access and view medical reports quickly from any device. No need to load PDF or other documents restricted in certain browsers without additional installed plugins.
Video Conferencing and Collaboration - OneDX is the only healthcare app allowing live collaborative study reviews with video conferencing.
Diagnostic Quality Images – With OneDX, clinicians are able to view diagnostic quality images from the web and mobile app.
Zero Footprint Viewer (Web browser based) – OneDX is 100 percent Zero Footprint, allowing a variety of application integrations such as PACS, EMR's and Patient Portals.                     
Image: